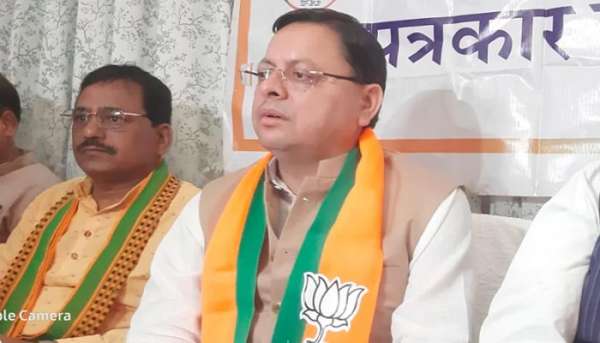 Uttarakhand Chief Minister Pushkar Dhami has accused the Congress government of Rajasthan of not allowing the Centre's beneficial schemes to reach the public and claimed that in view of the public's enthusiasm towards the Parivartan Sankalp Yatra of the Bharatiya Janata Party (BJP), BJP government is going to be formed in Rajasthan.
Shri Dhami (CM Dhami) was addressing a press conference in Kota on Thursday during BJP's second Parivartan Sankalp Yatra. He said, "I have also been a witness to the Parivartan Yatra in Rajasthan and the Parivartan Sankalp Yatra was welcomed at many places in Kota and Jhalawar. Seeing this enthusiasm of the people, I can say with full confidence that the BJP government will form in Rajasthan in 2023." It is going to be made."
He (CM Dhami) alleged that the present Congress government in Rajasthan is not allowing the beneficial schemes of the Center to reach the public. The Congress government does not want the welfare of the people of the state, this government is limited to its poster game and publicity. The public has now come to know about the hollow promises of free schemes.
He (CM Dhami) while stating the need for a double engine government for overall development in Rajasthan, said that seeing the public support in this Parivartan Sankalp Yatra, it has become clear that the public will give a huge majority to the double engine government of BJP.
Exhibitors who came to UP trade show said, there is no one like Yogi
Shri Dhami (CM Dhami) said that the Parivartan Yatra being taken out on this brave land of Rajasthan is getting special affection from youth, women and elders. In the last five and a half years, the Congress government has taken Rajasthan to the top in the country in rape cases and today Rajasthan has become a den of criminals. Cases of atrocities against women and Dalits have continuously increased in the state.
He (CM Dhami) alleged that the Congress government has also tarnished the glorious history of the brave women and heroes of Rajasthan. He said that Gehlot government does not say anything about Lal Diary, everyone is well aware that the dark deeds of corruption are hidden in this Lal Diary.
He said that today under the leadership of Prime Minister Narendra Modi, India's cultural glory has returned and under the leadership of Shri Modi, India has developed a distinct identity.