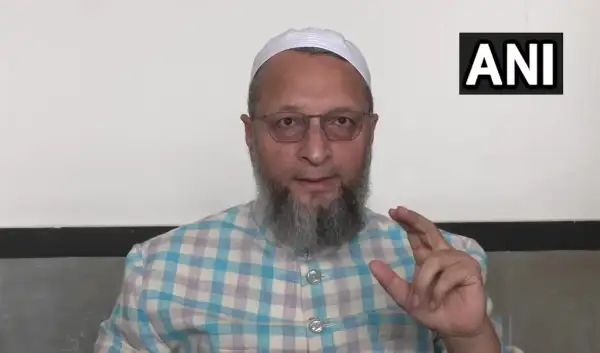 All India Majlis-e-Ittehadul Muslimeen (AIMIM) President Asaduddin Owaisi on Sunday criticized Prime Minister Narendra Modi over his alleged 'silence' on the killing of four Indian soldiers by Pakistani terrorists in Jammu and Kashmir.
He asked whether the Center would conduct a 'surgical strike'. Addressing a program organized to celebrate the anniversary of Nizam-ruled Hyderabad joining the Union of India on September 17, 1948, as 'National Unity Day', Owaisi said that terrorists from Pakistan had killed a colonel, a major and a deputy superintendent of police. Did it, but the Prime Minister is 'silent'.
Owaisi, MP from Hyderabad, said, "When the Pulwama attack took place in 2019, our Prime Minister had expressed anger but in the recent incident, in which a Colonel, Major and Deputy Superintendent of Police were killed, he is not saying anything."
Owaisi also expressed his objection to the cricket match of Pakistani team at Narendra Modi Stadium in Ahmedabad amid the incident in Kashmir. He said, "The terrorists from Pakistan are playing a match with the lives of the people of Jammu and Kashmir, should we play a cricket match?"
Owaisi asked, "What would the Bharatiya Janata Party have done if it was not in power?" He said, "It is surprising that Modi ji is silent. We appeal to Modi ji to conduct a surgical strike. Or you (Modi) will do it in January or February. when will you? It is your failure that terrorists from Pakistan came into the country.
Owaisi accused Union Home Minister Amit Shah of 'lying' that the merger of the princely state of Hyderabad with the Indian Union was done without bloodshed.
Addressing the Centre's official function on 'Hyderabad Liberation Day', Shah had said that it was Sardar Patel who, following the principle of Nation First, planned the Hyderabad police action and defeated the Nizam's Razakar army 'without bloodshed'. 'Forced to surrender.
Owaisi said that after the police action, a committee led by Pandit Sunderlal had visited Hyderabad state. Owaisi said, "In the report, Pandit Sunderlal said that more than 20,000 Muslims were killed. The unification of Hyderabad could have been possible without bloodshed, but that was the mistake of the then rulers.