Tezzbuzz News. The holy festival of Ganesh Chaturthi has started from today. In this festival which lasts for 10 days, people prepare delicious dishes and feed them to Ganpati Bappa. Ganeshotsav is celebrated with great pomp across the country. Ganesh Chaturthi is considered very auspicious for the worship of Lord Ganesha. Apart from modak and laddu, you can also make churma barfi and feed it to Lord Ganesha. So let's know about the recipe to make it…
Material
Gram flour – 2 bowls

Mavo – 1 bowl

Desi Ghee – 1 cup

Sugar – as per taste

Dry fruits – 2 cups

Cardamom powder – 1/2 tsp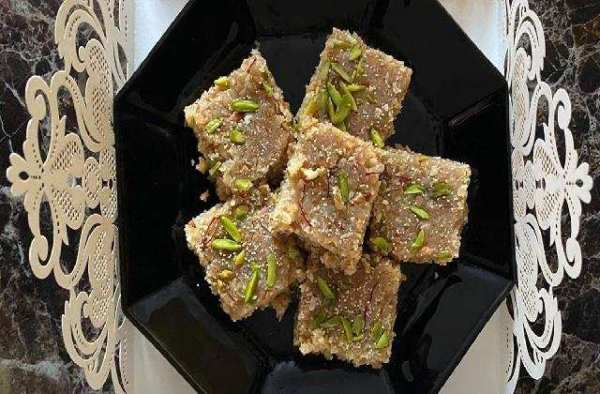 recipe
1. First of all, put gram flour in a pan and fry it on low flame.

2. Keep in mind that the flame of gram flour should not be high. After this, take it out in a vessel.

3. After this, prepare the batter by mixing desi ghee in gram flour.

4. Keep the solution aside for some time.

5. To prepare the syrup, pour water in a pan. Then add sugar to it and heat on medium flame.

6. Stir the syrup with a ladle and separate water and sugar. When the syrup is ready, slow down the gas.

7. After this, slowly add gram flour and ghee solution into the syrup.

8. Mix the solution well with the help of a ladle.

9. Then cook the mixture for at least 5-7 minutes.

10. After this add desi ghee to the mixture. – As soon as the mixture absorbs the ghee well, add ghee to it.

11. Prepare the mixture in the same way by adding ghee 3-4 times. – After this add mawa and cardamom powder with a ladle.

12. Take out the mixture in a plate or tray. Keep in mind that the plate in which you are taking the mixture should be greased with ghee.

13. After this, spread the mixture evenly over the entire plate.

14. Add chopped dry fruits to the mixture. Press it gently and let the mixture cool.

15. Leave the mixture to set. After this cut it into desired shape.

16. Your Churma Barfi is ready. Offer food to Bappa.