Wedding season is going to start soon and many people are going to tie the knot with their partners. After marriage, couples go on a honeymoon which they planned even before marriage. These moments are very important in their life which bring them closer. In such a situation, couples choose such places for honeymoon where the atmosphere is very romantic and they can enjoy loving moments holding hands with their partner. Today in this episode, we are going to tell you about some such romantic destinations where you can make every moment spent with your partner memorable.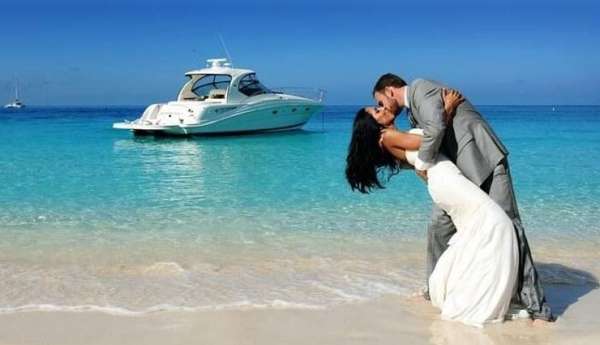 Andaman and Nicobar
If you are thinking of going to a Hollywood-style destination, then feel free to pack for Andaman and Nicobar. The scattered sand on the beaches here, shady swings tied to palm trees, scuba diving, glass boat rides, and windsurfing will add to the romance. Away from home, teeming with marine life and lush coral reefs, the remote island of Andaman and Nicobar is one of the best places for honeymoon adventures. Here you can make your honeymoon memorable by enjoying swimming with sea turtles.
Goa
Goa is one of the most favorite destinations in India. Goa is a place where you can enjoy your honeymoon well. Goa itself is a very romantic and beautiful place. So if you are looking for a budget-friendly honeymoon destination then Goa is the best option. Although there are many beautiful places to see in Goa, Miramar Beach is one such place from where the view of sunset in the evening is very beautiful and relaxing. Apart from this, apart from Calangute, Baga, Anjuna, and Dona Paula, the beauty of many other beaches is worth seeing.
Kerala
Kerala is called Venice of the East. This is such a beautiful honeymoon destination, where there is an influx of Indian and foreign tourists throughout the year. This adventure takes place in Alleppey in Kerala. Apart from this, you will be able to see tea plantations, mountains and many beautiful views here and make your honeymoon memorable.
Darjeeling
Apart from tea gardens, Darjeeling is also the best honeymoon destination. It is also called the 'Queen of Hills'. To make your honeymoon memorable, you can take the help of a toy train. By sitting on this train, you can make your honeymoon memorable by seeing the beautiful views of tea plantations, deodar forests, Teesta, and the confluence of colorful rivers. When the weather is clear, you can also see the world's highest peak Mount Everest from here.
Puducherry
If you and your partner like to spend time on the beach, then you can spend very beautiful moments on the beach of Puducherry. There is Paradise Beach in Puducherry which has a small bay on one side that can be reached only by boat. Seeing dolphins while going on a boat is no less than a thrill.
Tawang
India and Tawang is situated at an altitude of 10,000 feet above sea level in the middle of the valley, which is very beautiful. Here you will get to see beautiful forests, waterfalls, valleys and lakes. Here you will feel the freshness of the winds. Along with this, you will have to pass through high mountains here. Although it is difficult to reach Tawang city by road, as soon as you enter the city, you will get to see the views of snow-covered peaks, which will make your travel fatigue disappear in a moment. If you are planning to go on honeymoon then Tawang can prove to be a good option for you.
Lakshadweep
Whenever people plan to go on a honeymoon, Lakshadweep's name is definitely on the list. The small islands present in the Arabian Sea are very attractive and can win anyone's heart. Lakshadweep is considered a great place for water sports. Islands attract newly married couples with their beauty. Apart from this, the best resorts built on Lakshadweep can make your honeymoon even more exciting and memorable.
(PC: Lifeberrys)