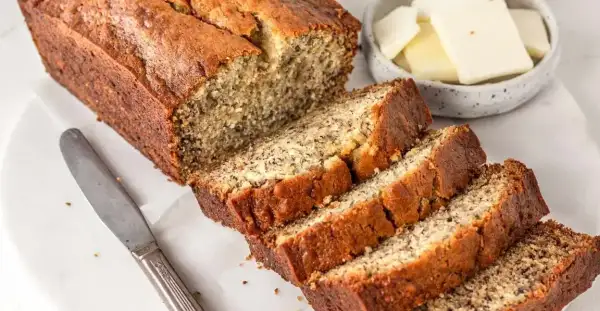 Who doesn't like sweet food? But, eating too much sweet is harmful for health. So why not satisfy your sweet cravings in some healthy ways. For breakfast, you can make healthy and delicious banana bread from banana. Let's know its easy recipe.
Material


Flour- 2 cups


Baking soda- 1 tsp


Salt- 1 teaspoon


Butter- ½ cup


Brown sugar- ¾ cup


2 eggs


Mashed Ripe Banana – 2 ⅓ cups


recipe

First of all, preheat the oven to 350 degrees Fahrenheit. Mix flour, baking soda and salt in a large bowl. In a separate bowl, cream together butter and brown sugar. Beat in eggs and mashed bananas until all ingredients are well combined.
Add the banana mixture to the flour mixture, beating just to moisten. Pour batter into prepared baking pan. Bake in preheated oven for 60 to 65 minutes. Until a toothpick inserted in the center of the batter comes out clean. Let the bread cool in the pan for 10 minutes, then remove. Your banana bread is just ready. Eat it yourself as a snack and serve it to family friends.